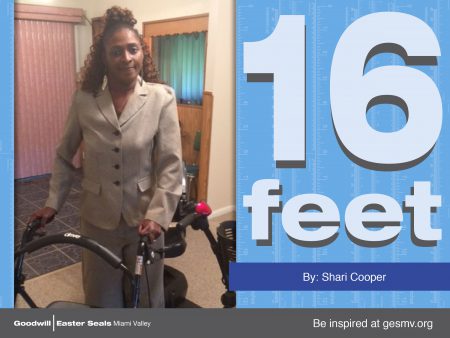 I don't know how many of you know but I used to be able to walk. I wasn't the best walker but I managed to be stable on my feet for thirty-two years with no assistance or medical equipment. I was also the best electric slider in Dayton!
Life happens, and as a result, my muscles weakened and left me without the ability to walk.  I once heard someone say "humans don't get mad, they get angry." But, I'm here to tell you that  I was MAD, angry, depressed, disappointed, disgusted — well you get the point.
I know we're not supposed to question why things happen but I did. And, if you will, hold on to that did until the end of this post.
My faith is very strong and I know I had and still have many who send up prayers on my behalf. For this reason alone I was able to pull through the darkest time of my life.  I'm very thankful for that.
I've tried physical therapy a few times in the past. I even tried intensive therapy where I stayed in a facility for two weeks. Therapy is very draining! You have to use muscles you haven't used in a while and it can hurt at times, but it's worth it. Because of therapy, I'm able to restroom myself, sit on my soft sofa, get in and out of the bed, stand and pivot independently.
Although I was happy with my physical accomplishments, I still wanted to walk. It may sound funny, but at times I can visualize myself walking. Just to keep it real, I have always known once my muscles weakened I would probably never be able to walk like I used to but I still wanted to walk a little for my own self-gratification.
After eight weeks of being in therapy and working hard, guess who just walked sixteen feet? Yes, yours truly got a walker and starting stepping one, two and by the time I knew, I was gone. My pace is slow and I still have a long way to go but at least I'm on my feet again. I will not be partaking in any marathons but I'm overjoyed just to be able to step. While up, I even managed to get my stand-still dance on. Don't let the walker fool you!
Getting to sixteen feet was my challenge but I'm sure you have challenges of your own. Everyone does. I shared this with you to let you know, if you set your mind to something, have a good attitude, believe and never give up you can to make things happen. Only you can determine the outcome of your life.
Walking is still very hard and riding my scooter all day would be so much easier. As I think about it, the things I've accomplished in life that were hardest actually made me the happiest. And, in that hardest to happiest I found the answer to my question of did. If I'm this hyped over sixteen feet just wait until I make it to ninety.  I'm going to be over the moon!