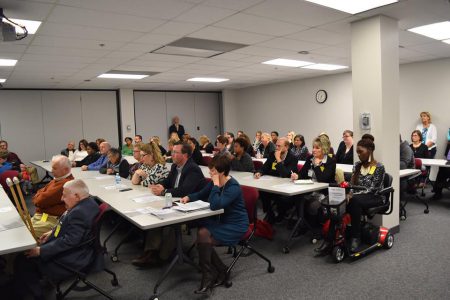 On November 1, 2017 I was honored to receive the Opportunities for Ohioans with Disabilities (OOD) Ben Bonanno Disability Advocate Award! This award is given to an individual who has made a significant impact on improving the employment opportunities of Ohioans with disabilities.
My road to employment was bumpy but I made it and now I must say I have a pretty good job. My mission is to hear others who traveled the bumpy path say this as well.
A few weeks back, I received a call saying I had been selected by the OOD's Commissioners to take home this prestigious award. I must say, I didn't even know I had been nominated. Two of my co-workers Mindy and Kim thought I would be a good nominee for this award so they secretly submitted me. Because of their efforts, I was nominated and selected which I'm truly appreciative.
There's nothing better than being honored to receive an advocacy award from a true advocate. I must admit that before this, I didn't even know who Ben Bonanno was. But I do now.
Ben Bonanno is a former commissioner of OOD. Mr. Bonanno is also a person with a disability and has been advocating for years to make sure his voice is heard spreading the message that all people with disabilities have quality of life.
Mr. Bonanno and I agreed, being an advocate is not easy. Often, I've felt as if I was speaking to a mountain when bringing forth issues that affect people with disabilities. But you know what I've learned, there's more than one way to conquer a mountain. You can climb it, dig a hole and go underneath it or if you have the faith of a mustard seed, you can tell it to move. Forty-four years I've been advocating and for my efforts to be noticed before a packed room of my OOD peers, is very humbling.
As we chatted, I asked Mr. Bonanno, what are you doing now? He replied, "I'm retired and traveling abroad." His travels have taken him to Russia, China and even Paris. I was so excited to learn he had gone to Paris because it's on my bucket list to make it there one day and see the Eiffel Tower which of course I told him. After finding this out, Mr. Bonanno told me to keep pressing on for he's sure I would make it there one day.
Thanks for the award OOD! I will never stop advocating it's in my blood. I hope an award is named after me one day just like Ben Bonanno. I also wish to have a happy retirement like him and enjoy life traveling. Something tells me he's still fighting. Once an advocate, always an advocate.