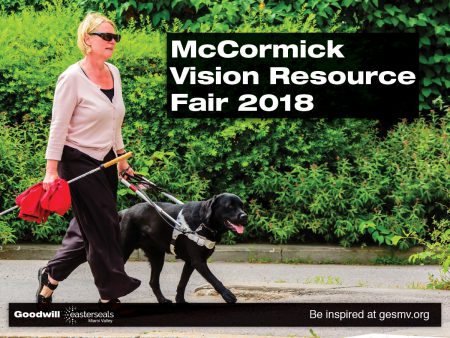 Goodwill Easter Seals Miami Valley, in collaboration with Wright State University, National Federation of the Blind (Ohio) and Opportunities for Ohioans with Disabilities, will host the McCormick Vision Resource Fair for the community, Thursday, October 11, from
9 a.m. to 1 p.m. at the GESMV Community Services Campus, 660 S. Main St. in Dayton.
This event is free and open to the public.
The Vision Resource Fair is an event providing information and resources regarding educational institutions/services, vendors, organizations and business that assist individuals who are blind or visually impaired.
Visitors will also have the opportunity to participate in informative educational sessions with many local speakers.
Sessions include:
10 – 10:30 a.m. Disability Rights Ohio – Barbara Corner, Attorney
10:30 – 11 a.m. Break
11:00 – 11:30 a.m. Community Welcome
Lance Detrick, GESMV CEO and President Joe Zehenny, GESMV Board of Trustees
11:30 –Noon HIMS Inc., Technology For Individuals Who Are Blind Or Visually Impaired – Andy Leach.
Noon – 12:30 p.m. Living with Low Vision
Events Available to the Public:
Vision Screenings by: Prevent Blindness Ohio
Flu Shots by: Walgreens
Lion's Recycle for Sight: Please feel free to bring any old prescription eye glasses. Recycled glasses are distributed to people in need.
Prevent Blindness Ohio will be on-sight to provide vision screenings to guests.
Vendors at the fair will include:
HIMS Inc.
OOD
NFB
ULVA
Pilot Dogs
Terry O'Brian
Enhanced Vision
Goodwill Easter Seals Miami Valley
Medical Equipment Loan Program
Radio Reading Service
RTA


Disability Rights of Ohio
Wright State University
Sightless Children's Club
Ohio Means Jobs
Access Center
Sinclair Community College
OSU Agr-Ability We Care Arts
Matter of Balance
Veterans Affair Medical Center