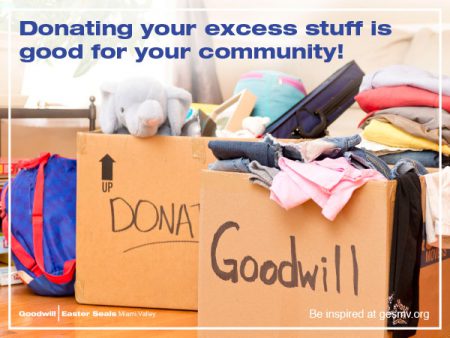 Some of you are waiting for the perfect opportunity to organize your home. Perhaps it's during spring cleaning season or when you have time off work. Maybe you've planned a time for grandma to babysit so you can organize without interruption.
Before your big day arrives, I encourage you to get a head start on your organizing project by purging excess items as you go about your daily activities.
Start by placing a donate box on every floor of your home. During your daily routines, be on the lookout for items you no longer need. For example, as you rummage through a kitchen drawer to find a cooking utensil, take a moment to remove utensils you no longer use. Place them in your donate bin located nearby.
When you get dressed in the morning, quickly browse through your closet to find clothing you no longer feel good in. When you dress your young child and notice they've outgrown something, walk these items to the donate bin on that floor of your home.
The next time you're looking for something in your storage area, scan the area for items you no longer need and add those in your donate bin.
Once excess items have been removed from each room, you can begin to organize the items you decided to keep.
It's much easier to start the organizing process on a daily basis, instead of waiting for a designated time to begin. This 'eliminate as you go method,' will allow you to get a little done everyday without much effort.
Once your donate boxes are full, load them in your car and take them to a donation center. Goodwill stores are a great place to take your unwanted items. They make donating easy. I like their convenient drop-off hours, helpful personnel and the wide variety of items they accept.
In addition to furniture and household items, they accept all styles of clothing, medical equipment, textbooks, entertainment media and computers. If you have non-working electronic equipment, give it to them as well. They also recycle the drawer full of orphaned electronic cords you've been hanging on to.
They do not accept mattresses, televisions and infant/child furniture and safety devices.
For a full list of acceptable donations visit: www.gesmv.org or call (937) 461-4800.
Items that don't sell in their stores, get recycled when possible. Proceeds from these recycled materials provide services to those in our community.
I recently took a tour of Goodwill's downtown Dayton location. I was amazed at the number of services this non-profit organization provides. They help individuals with disabilities achieve independence, help people find jobs and offer services many of us may need someday.
Their motto is, 'Provide a hand up, not a handout.' They offer more than 40 programs and services for people in need including medical equipment loans, vision services, employment programs, mental health services and programs for children and seniors. Roughly 50% of their staff has a disability of some kind.
Rather than throwing items away, consider the positive impact of donating. Reuse of items keeps them out of the landfill and provides others in the community with opportunities for independence. All this while helping you achieve a peaceful home environment and a tax deduction.
This article was written by guest contributor Lori Firsdon of Forte Organizers and granted permission to be re-post on gesmv.org.