2022 Drive to Victory Marching Band
Schedule & Results
The proceeds from the sale of these items go to help fund the more than 40 programs and services Goodwill Easterseals Miami Valley offers to the communities we serve.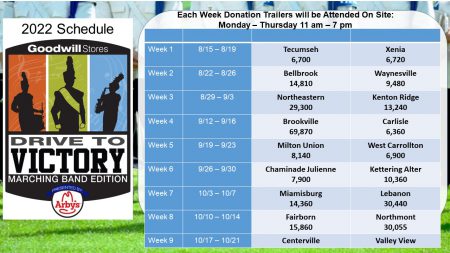 How it Works
The Goodwill Donation Trailer Arrives at Participating Schools 
Goodwill Donation Attendants will be on-site to accept donations from 11 – 7 pm, Monday -Thursday.
They will be there to provide customer service and donation receipts to all donors.  Attendants will also be able to answer questions on items we cannot accept for safety reasons.
Clothing    Shoes   Toys   Household Items   Housewares
Jewelry   Medical Equipment   Books   Furniture
Small working Appliances   Computers    Electronics
Donate a Vehicle for Bonus Weight
Your School Band can also receive a bonus by donating a car during the collection period.
If you are a donor who would like to donate a vehicle, please call 228-AUTO.
Tell the operator the Band name they would like it to qualify for and the Band will receive a 1000-pound bonus.
How will a winner be determined
Goodwill will remove the donation trailer on Friday morning to be weighed.  This will be combined with any vehicles donated during the week designated to the school to obtain a total weight.
The School Band with the most weight will be declared the winner for that week and receive a $400 scholarship AND the other participating School Band that week will receive a $200 scholarship.
At the end of the regular High School Band Season, the School Band that collected the most items by weight, during their assigned week, will be declared the Drive to Victory 2021 Champion and will receive an additional $1000.00 scholarship.