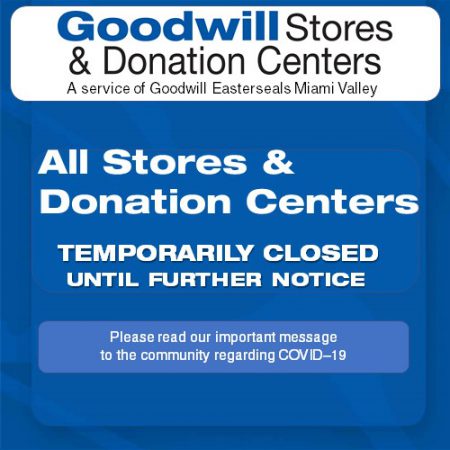 In light of the evolving COVID-19 pandemic, Goodwill Stores operated by Goodwill Easterseals Miami Valley will be temporarily closing our retail stores, outlet store and donation centers, effective Monday, March 23rd.
This closure includes all retail stores, our outlet store along with all of donation centers in our 23-county territory.  Our on-line shopping service, Shopgoodwill.com/Dayton will also suspend operations.  The Goodwill Auto Auction will still be accepting donations at 937-228-AUTO but will suspend actual auctions until further notice.
Donations will no longer be accepted at Goodwill Stores and Donation Centers operated by Goodwill Easterseals. We encourage the public to visit us once we reopen – as shoppers and donors are crucial in helping fund our more the 40 plus programs we offer to our communities.
Our social enterprise of stores provides the resources for thousands of individuals with disabilities and other disadvantages to acquire jobs and skills training, senior and developmental disabilities programming, child screening, along with behavioral health and many other services.
This makes our decision to close our stores even more difficult, but necessary to protect the health of our employees, our donors, our customers and our community at this unprecedented time.
We will be providing updates as often as we can. Stay informed by following us on Facebook, Instagram, and our main website gesmv.org.
Thank you for your understanding and continued support of Goodwill Easterseals Miami Valley during these challenging times.