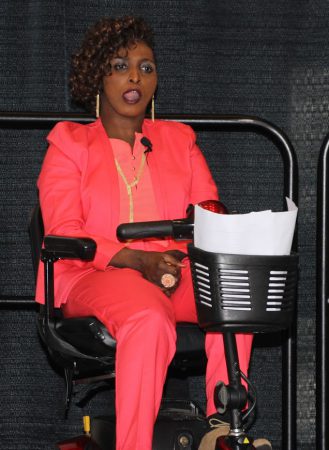 Advocacy means, the act or process of supporting a cause or proposal according to the Merriam –Webster dictionary. https://www.merriam-webster.com/dictionary/advocacy
Disability Advocacy has been my purpose for a long time. I'm always advocating and joining forces with others who share in the mission of people with disabilities having a good quality of life.
On March 8th, advocates from all across Ohio will make their way to the Statehouse in Columbus for Developmental Disability Advocacy and Awareness Day. Advocacy Day is a yearly event that is set up for advocates to meet with their state legislators to discuss matters affecting people with disabilities such as Medicaid, marriage penalty and accessible transportation. The hope is that when our voices are heard, positive changes will be made.
Not only do advocates meet with legislators but the day kicks off with a morning program which takes place in the Statehouse Rotunda. I'm honored and excited to be invited back for the fourth consecutive year to emcee this great event.
The program consists of advocates and professionals in the field taking the stage to tell their stories of advocacy. This is also the time to get updates on the developmental disability system and to learn of new programs on the horizon. In the past, I've heard some inspiring stories.  One woman who was having trouble finding a job started her own shredding company, with the help of her family and an assistance program.   A young man who believes strongly in his faith and wants to get married to his long-time girlfriend has chosen not to because of fears of losing his disability benefits.
There's something so profound when an audience hears from an advocate. The personal spoken stories of advocates hold weight. When you hear chronicles of determination, one truly begins to understand what advocacy is all about.
Don't know what you're doing on March 8th, but if you can find your way to this event, it would definitely be worth your time and effort.  Advocacy Day is disability empowerment at its best. This is a great awareness event for people who don't know and want to learn more or are just in the dark about people with disabilities.
Hope to see you there and if you do make it, don't leave without telling emcee Shari "Hello"!