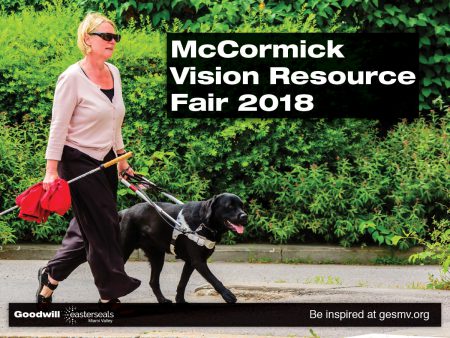 Goodwill Easterseals Miami Valley, in collaboration with the National Federation of the Blind (Ohio) and Opportunities for Ohioans with Disabilities, will host the McCormick Vision Resource Fair for the community, Wednesday, November 7, from
9 a.m. to 1 p.m. at the Goodwill Easterseals Miami Valley West Central Community Services Center, 2350 Allentown Road, Lima Ohio  45805.
This event is free and open to the public.
The Vision Resource Fair is an event providing information and resources regarding educational institutions/services, vendors, organizations and business that assist individuals who are blind or visually impaired.
Visitors will also have the opportunity to participate in informative educational sessions with many local speakers.
Sessions include:
10 – 10:30 a.m. Disability Rights Ohio – Jordan Ballinger
10:30 – 11 a.m. Break
11:00 – 11:30 a.m. Community Welcome
Lance Detrick, GESMV CEO and Craig Seitz GESMV Board of Trustees
11:30 –Noon Eschenbach- Vivian Mooney
Noon – 12:30 p.m. Dr. Mary Shenouda
Events Available to the Public:
Flu Shots by: Walgreens
Lion's Recycle for Sight: Please feel free to bring any old prescription eye glasses. Recycled glasses are distributed to people in need.
Vendors at the fair will include:
Eschenbach.
OOD
NFB
ULVA
Orcam – MV Eye 2.0 (weather permitting)
Enhanced Vision
Goodwill Easter Seals Miami Valley
Medical Equipment Loan Program
Radio Reading Service
Terry O'Brien


Disability Rights of Ohio
Veterans Administration
IPhone/ IPad Table
Agriability,  OSU Extension
Low Vision Coalition
Area Agency on Aging

Plus Many More!!