Where do you go to see the beauty of the fine arts? I'm talking about Van Gogh, Black Heritage Through Visual Rhythms, and Norman Rockwell and whose artwork makes you stop in your tracks and marvel at its beauty.
I go to the Dayton Art Institute!
The Dayton Art Institute (DAI) is a very mystical architectural structure. Once entering, if you allow your imagination to wonder, the artwork and the vibe of the building will transfer you to another place in time.
A few months ago, I was asked by a good friend if I would sit on DAI's Facilities Committee. DAI wanted my expertise on making not only the building, but the whole experience accessible and enjoyable for people with disabilities. Of course, I said yes, because not many organizations care about accessibility. Often, organizations only care if the basic American with Disabilities Acts are being met.  Basic is good enough for most, but not DAI. They wanted to go above and beyond to make accessibility a priority.
During DAI's renovation to make the facility more accessible, I was then asked to take a tour and give my personal expertise.
I must say, I was very impressed over the thought and care that had been put into the overall plan. As I zoomed around on my cute red scooter, Cherry, I was able to check out many aspects of the building, including accessing areas that were wide enough and those that weren't. I checked the bathrooms to see if they were up to par, viewed signage on exhibits to see if they were at eye level for someone sitting, and checked out the staff's vibe, which was great.
My favorite part of the tour was riding the lift to get on the stage. I felt as if I was on an amusement park ride, which was fun!
I was later invited back to give a presentation to the staff on Diversity, Equity, and Inclusion. DAI's mission is to be a welcoming entity for all.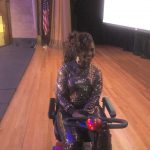 I love seeing establishments go above and beyond to try and make everyone feel welcome. I often wonder what makes one take extra steps to achieve this goal, so I asked the Director of the Dayton Art Institute, Michael Roediger. Take it away Michael.
Thanks, Shari! For me, my colleagues and the Board of Trustees at the DAI it is all about being intentional to make the community's museum welcoming and accessible to all. Our mission is that we are committed to enriching the community by creating meaningful experiences with art available to all. We often ask who are we not including?
Shari provides invaluable insight and perspective to us ensuring that we are living up to our promise. Look for more updates based on Shari's recommendations. If we can make your visit more enjoyable, please let us know. See you soon at your DAI!
Thanks Michael! Let me echo Michael by reiterating, DAI is doing their best to make all feel welcome. I encourage you to check DAI out, today!