Have you ever wished you could go back in time? If so, what era would you choose to return to? How about 1985? Where it was all about the neon colors, netted shirts, baggy pants and let's not forget about the puffy skirts.
I was warped back in time on April 27th when I attended the Time Warp Prom! Time Warp Prom is a huge party that takes place at Wright State Nutter Center. This unique event has been taking place for a decade and is sponsored by Mix 107.7 iHeart radio station.  Mix 107.7 is known for playing music from the eighties and nineties. The theme of this year's prom was, Spring Break 85'!
It took me a minute to figure out what to wear to this unique prom. The only prom I had attended was back in 1991 when I wore a traditional prom dress.  I wanted my Time Warp outfit to be, a little bold, crazy and fun this time around.  Cyndi Lauper's song, Girls Just Wanna Have Fun stuck in my head so I went with it. I went to many stores searching for things to create my 80's look.  I found a bright yellow tutu skirt, yellow top that tied on the side, fishnet pantyhose, yellow thick heals, long dangly earrings and many other accessories;  including  a cat ears head piece that completed my fun bright look!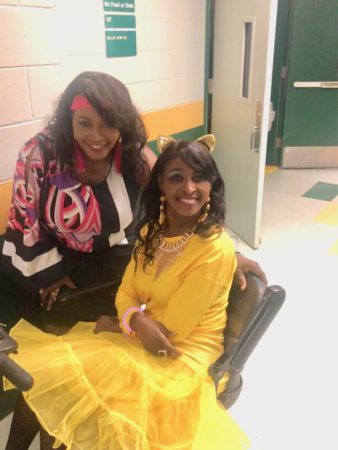 You might not know this about me but I love to go to parties. My siblings Glenda and Samuel do too, so I brought them along to join in on the festivities! Needless to say, we had a boatload of fun on the dance floor and of course, we all dressed from back in the eighties. Samuel took on the persona of music funk star Morris Day and Glenda took on the iconic, Tina Turner!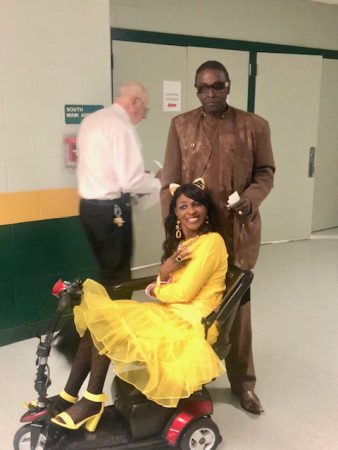 Talk about having a blast, I did! The atmosphere was amazing. When we entered the Nutter Center, which I must say is very accessible, there were many flashing psychedelic lights everywhere. A few areas were setup with props such as beach-balls and grass skirts so you could take spring break photos. There was even a professional photo booth for those who wanted memories to savor the moment.
Party-goers were dressed as their favorite eighties idol. Michael Jackson, Pat Benatar, Run-DMC and Madonna, were in the building. I think I even saw someone dressed as the eighties movie character, Edward Scissorhands! The music was pumping with great eighties music and the dance floor stayed packed.  And yes, you better believe I was out on the dance floor rocking with the best of them!  There was even an awesome live band called Stranger whose lead singer, Jeff Stevens, is the Host of the morning show for Mix 107.7. They covered a variety of my favorite songs including; Journey's Don't Stop Believing, Bon Jovi's Living on a Prayer and two of my all-time favorites, Prince's Purple Rain and Let's Go Crazy!
As if the prom wasn't cool enough alone, Goodwill Easterseals Miami Valley (GESMV) was given the awesome opportunity, for the second year, to be the blue carpet sponsor welcoming party-goers as they entered. Talk about cool, it was so exciting to see people walking in as stars on our carpet! My co-workers, who were decked out in 80's attire, and I gave out a few gift cards for those who came up and made it known he or she purchased their outfit at a Goodwill Store.
Time Warp Prom is a great event. I'm so glad Mix 107.7 presented the opportunity again for GESMV to be the blue carpet sponsor. It's an amazing collaboration; because when shopping at Goodwill, eighty cents of every dollar is used to support over forty programs and services offered at GESMV. If you ask me, this collaboration is a win, win situation.
Hope to see you next year at the biggest party in town because Time Warp Prom opens its arms to all, its easily accessible; come as you are fun event.  I'll be there dressed in my 80's attire, ready to dance, and having the time of my life for their 2020 celebration!