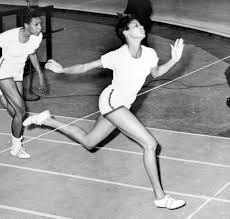 As an African-American, I'm always happy to see Black History Month roll around. Celebrating the accomplishments of my ancestors is a great honor. As an African-American woman who has a disability, I'm ten times more ecstatic to learn about women from my culture who have disabilities and have accomplished great things despite their challenges. I love paying homage to my "sistas".
Motivation has a strange yet invigorating effect on people. When you're motivated to do great things your reward is usually golden. It may take a while for you to see the end results of your efforts. Some may never see what they set out to accomplish because death may have taken them too soon. Still, highly motivated people accomplish great things, they are then etched into history for all to learn about.
I was taught and believe if you put your best foot forward, eventually something will break for you.
Wilma Rudolph, the twentieth of twenty-two children could have easily gave up. Wilma, who had polio, wore braces from age four to twelve. I can empathize with Wilma because I too wore a brace when I was younger and it was uncomfortable and also unattractive.
One thing so remarkable about children is, they are resilient and when setting their mind on doing something, they can often meet their goals.  By age twelve, Rudolph was out of braces and up on her feet. Not only was she ready to walk but, as fate would have it, running turned out to be her God-given talented.
Although Wilma started her sports career playing basketball in high school, she was scouted by Tennessee State University's coach for her quickness and recruited to their track team. In 1956, at age sixteen, Wilma qualified for the Summer Olympics in Melbourne, Australia, where she took the bronze medal in the women's 400 meter relay. By the 1960 Summer Olympics in Rome, Italy, Wilma was at her best. She won three gold medals in a single Olympics, making her first African-American woman to do so in track and field.
Wilma Rudolph went down in history as one of the greatest runners that ever lived. Her determination let nothing stop her from reaching her full potential. It's because of women like Wilma that I strive to do my best each day. It's my hope that someone shall blog about me, when I'm gone for leaving a positive mark in history. Until then, thanks Wilma!