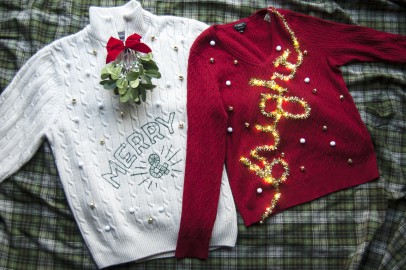 Festive holiday sweaters are tons of fun, but what's even better than one sweater?
Well… you probably already guessed based on our blog title. So, grab your partner, roommate, sister — whoever is close to you in your pandemic bubble! — and work together to customize a look that's twice as nice.

Here's how!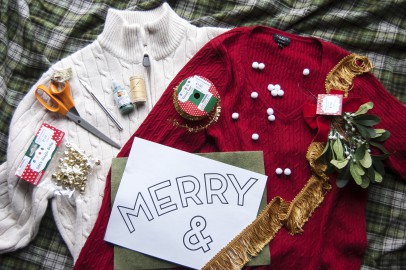 Supplies:
2 sweaters or sweatshirts
Cardstock
Access to a printer
Exacto blade
Piece of cardboard
Water-soluble marking pen
Fabric paint
Sewing needle
Thread to match your sweaters
Safety pins
Straight sewing pins
2 strings of LED lights with wire inside
Tinsel garland with wire inside
1 sheet of felt
Scissors
Embellishments such as pom poms, a mistletoe bundle, jingle bells, tassels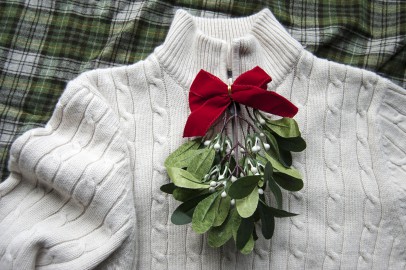 Step 1: Settle on a theme. There are so many two-part quintessential holiday phrases (Naughty and nice, Holly Jolly, jingle bells, etc.) that you could really have some fun. As you can see, I went with Merry & Bright. Once you've made your choice, head over to Goodwill to see what you can thrift for supplies. Each local Goodwill organization uses donations, and the sales of those donations, to fuel a social enterprise that provides job opportunities and funds other important job placement and training programs to help people find jobs, earn paychecks and build their careers. In this season of giving, I love that my purchases themselves give back!
Step 2: Plan your layout. I set all my pieces out before making any critical decisions so I can envision the final product. This was important because it allowed me to realize how much space each item takes so I can arrange them appropriately. Seeing how much space I had left on my "merry" sweater allowed me to customize the text in an arch, so it fills up more vertical space than if it were just on one line. You can download a template for these letters or with some holiday images. You could also make your own! Get adventurous!
Step 3: Begin adding each element starting with the ones that take up the most space. For my "Merry" sweater that was this mistletoe necktie which I twisty-tied to a zipper at the neckline. Next came the text. Since I knew the fabric paint for this would take a while to dry, I made sure to do it as soon as possible so I could work on other elements of the sweaters while it set. To begin, I printed my template on cardstock then used an Exacto knife to cut them out. Make sure you put some cardboard under the template so you don't damage your work surface. And for any letters or images that have center holes (like my Rs and ampersand), leave a little tail that connects the center to the rest of the template.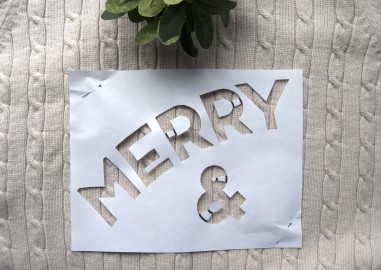 Step 4: Pin the template in place on the sweater and trace the letters with a water-soluble marking pen. Finalize the design with fabric paint then set aside to dry. Don't worry if you mess up while tracing—the marking pen will wash out!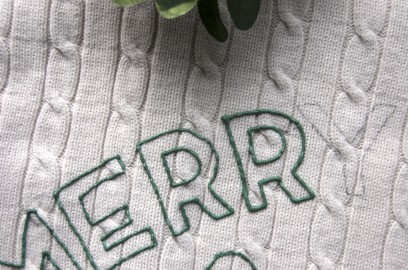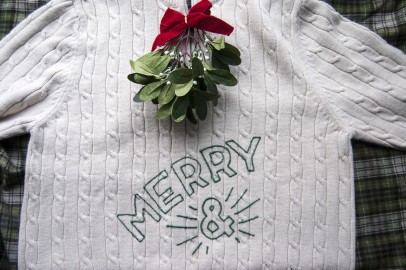 The most exciting festive holiday sweaters, in my opinion, are the ones that are completely over-the-top. So, for my "bright" sweater the letters took on a little more life. I took two strings of LED lights and twisted them together with some tinsel garland.
Both the garland and the lights have wire inside so they stayed right where I put them. Make sure that the controls for the lights are at both ends so you can hide them on the inside of the shirt. Keep in mind that wherever they rest there will be a little extra weight. With thick sweaters like this, it shouldn't be very noticeable, but if you're working with a lighter material it's just something to keep in mind. It took me a couple of tries to get the letters just right so take your time and have fun with it!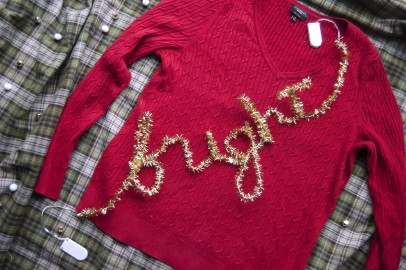 Step 5: Add the extras! With my red sweater lying flat, I used straight sewing pins to keep the word "bright" in place while I hand-stitched it on with coordinating thread. After that was set, I sprinkled jingle bells and tiny white pom poms (to mimic snow) on both sweaters and safety pinned each embellishment in place from the inside. Then I turned the sweaters inside-out and hand-stitched each pom pom/jingle bell in place. I feel like this common decoration brings the two sweaters together and it kicks their holiday cheer up a notch, too! No one will be missing these sweaters!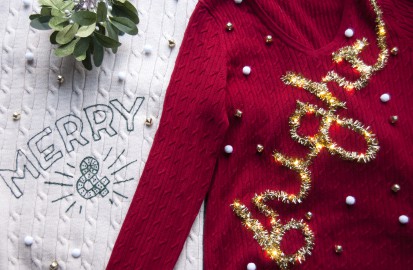 Step 6: Tie up any loose ends. For me, this meant the switches that turn on and off my lights. I planned for them to rest on my shoulder and at my hip, in little felt pockets at the seams. The pockets were super simple: I sat the control on top of a piece of felt and cut around it with enough room for a seam allowance.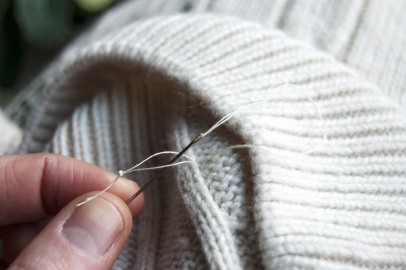 Then I took the pocket and placed it inside the shirt where it was comfortable for the control box to rest. I pinned these in place then hand-stitched them shut using a thread that was the same color as my shirt.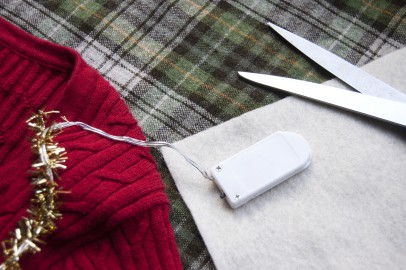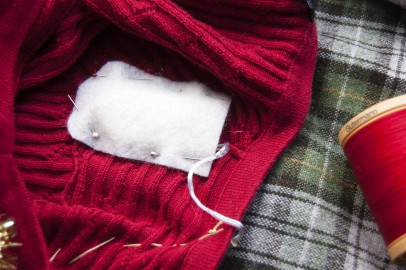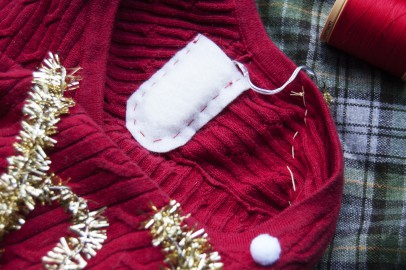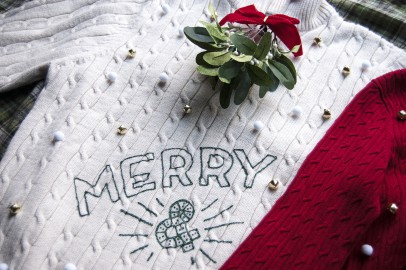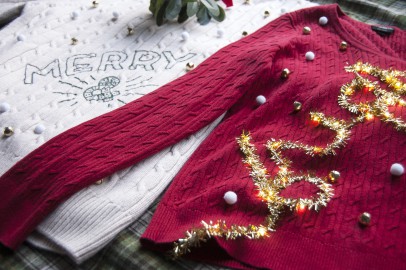 With everything in place, I was eager to see how the two sweaters looked together.
I love that the red in the mistletoe bow matches the red of "bright" sweater while the white pom poms on that pull in the white of the "merry" sweater. Their cable-knit fabrics even match so I feel like maybe these two sweaters were destined to be a pair from the beginning.
So, there you go! A custom couples' sweater set for your dream duo. Have tons of fun thrifting and crafting together (date night, anyone?) and warm holiday season.