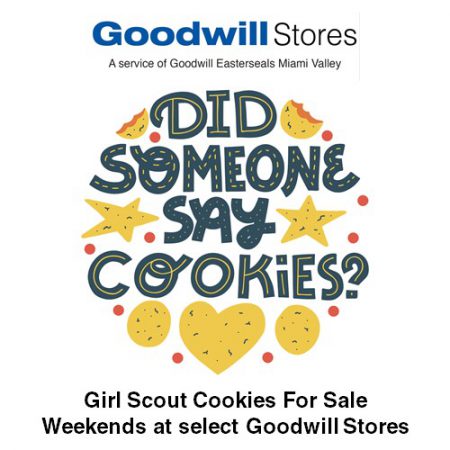 The Girl Scout Cookie Program will be wrapping up soon.  Goodwill Stores a service of Goodwill Easterseals Miami Valley has again partnered with local Girl Scouts to provide opportunities to provide cookie booths at selected Goodwill Stores.
Girl Scout representatives will be on hand at the following Goodwill Stores:
Beavercreek, Bellefontaine, Celina, Centerville, Englewood, Greenville, Kettering (Dorothy Ln. and Patterson Stores), Lebanon, Lima (Eastgate and Allentown Rd. Stores), Miamisburg, Middletown, Miller Lane (Butler Twp.), Oakwood, Piqua, Springfield-Bechtle, Sulphur Grove (Huber Heights), Troy, Van Wert, Wapakoneta, Wilmington, and Xenia.
Scheduled Hours for Girl Scout Cookie Sales
(Hour and times subject to change)
3/5         Friday 4 pm -8 pm
3/6         Saturday 9 am-9 pm
3/7         Sunday 12 pm – 6 pm
3/12      Friday 4 pm -8 pm
3/13      Saturday 9 am-9 pm
3/14       Sunday 12 pm – 6 pm