Last year, Cowgirl Shari made a special appearance for Halloween and she was a big hit.
The Cowgirl Shari look was easy to pull off. I like simple but fabulous with a lot of swag. Just to give you a recap on how I brought Cowgirl Shari to life was, put on some jeans, added red designs on the side of them, a solid color shirt, black jacket with fringes, killer red and black boots and the sharpest red cowgirl hat I've ever seen.
I also, incorporated my scooter in with my costume by duck tapping a kid's play horse on a stick to my steering wheel.  It made it look like I was riding a horse.
Talk about a cool costume, yes it was!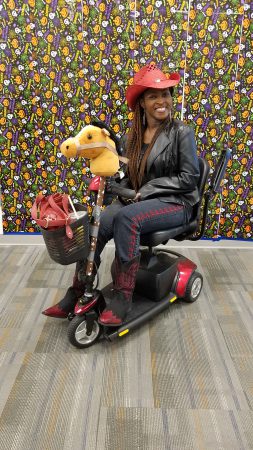 For some reason, I can't figure out what I want to be this year. Now, one thing you must know about me, I'm a truly girly girl. I like everything pretty. Glitter, sparkle and dazzle are what get me going. I'm seeking suggestions that are cute, current, yet simple.  I don't want a costume that's going to take twenty minutes to get off when I have to use the restroom!
I also want a costume that I can incorporate my scooter because it's an extension of me.  No need to ignore it, but instead feature it as a cool attribute.  My scooter was a horse last year and it didn't take much to get that together. Again, any suggestions for my scooter needs to be simple, because after all, I still need to get around!
I came up with the Cowgirl Shari concept,  but now retired to ride another day. Wonder what amazing ideas you all will come up with for me this year? Will I be a princess or warrior? I can't wait to hear and will blog about it later. I'm so hyped, I can hardly contain myself! Thanks for your assistance to help me Halloween in advance!
As you dream up costume suggestions, don't forget to think about costume ideas for yourself. I'll be shopping at my local Goodwill Store conjuring up all I need to pull my outfit together. Since I'll probably never wear the items I find for my costume again, why pay full price for them?  Goodwill has all you need for Halloween and are getting more items daily.   So go check them out, you won't be disappointed or broke.
Check out the link to all Goodwill Stores in the Miami Valley:
https://gesmv.org/stores-and-donation-sites/
So, please help me out and get on the ball sending me Halloween costume suggestions. I need to get started searching to find all the stuff to put my outfit together.  I want to look amazing!