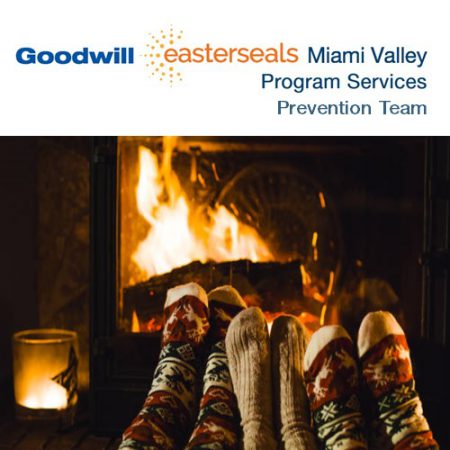 The Prevention Team at Goodwill Easter Seals Miami Valley wishes you the best National Stress-Free Family Holidays Month in December.
As we know, the holidays in December and January add warmth to the cold winter and families love spending the holidays together to celebrate and to visit with their loved ones.
Unfortunately, as we enter this holiday season, many of our traditions of spending time with our loved ones are being limited by health standards around COVID 19.
Here are a few suggestions to stay calm, cool and collected and to enjoy your family time with one another.
Send holiday cards to all members of your family. Have the kids send special pieces of art or messages to those who live far away
Create holiday decorations as a family. Crayola offers free coloring pages and ideas for decorations.  https://www.crayola.com/featured/free-coloring-pages/
Prepare holiday meal menus and make the meal together as a family.
Watch your favorite family holiday films together.
Play board games and put together puzzles.
Check-in on your loved ones by using Zoom or calling on the phone.
Learn how to make a new craft this holiday season.
Host a sing-a-long with your friends and family over FB.
Make a holiday scrapbook.
Write thank-you notes as a family.
Shovel snow for a neighbor who isn't able to shovel their snow.
Ask for help. If stress and the winter blues are taking ahold of you, please call the Miami Valley Warmline to talk to someone and to connect to area resources.  The Miami Valley operates Monday through Friday between 11 am until 7:00 pm.  1-937-528-7777.
Encourage peace and caring for others this holiday season. Let family and friends know how important and special that they are to you.
The Prevention Team at Goodwill Easterseals Miami Valley wishes you and your family the best this holiday season.