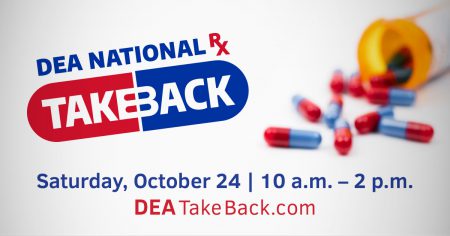 Goodwill Easterseals Miami Valley's Prescription Medication Safety Campaign would like to invite all of our community members to participate in the upcoming DEA Drug Take-Back Day on October 24, 2020, from 10 am until 2:00 pm to help make Montgomery County safer around medications in our homes. 
Here are a few steps that each of us can take to stay safer in our homes….
First, we encourage community members to not share or take anyone else medication. This is sometimes done with the best intentions, however, there are many variables that go into why a specific medication and dosage are prescribed to an individual. Variables include medical history, current medications including prescriptions, over the counter medications and vitamins, allergies, height, and weight.  We encourage all community members to only use medications that have been prescribed to you.
Read the materials that are provided with your medicine to see if there are any specific instructions for safe use, storage and disposal of your medication.     Please notice any warnings with your medication and we encourage you to ask more questions about your medication to your providers.
Some great questions to ask your medical team include:
Why is this medication being prescribed to me?
Should I take this medication regularly or as needed?
When is it appropriate for me to take this medication? Ex: what type of pain should I be experiencing before I take this medication?
Keep all of your providers including your dentist updated with all of your prescription and Over the Counter medications that you take.
What effects can I expect from taking this medication?
What precautions do I need to take while driving, operating machinery, etc.…?
Is there any additional potential with my medication?
When and how should I stop taking my medication?
How should I store and dispose of my medications?
Medication storage:
How do you store your medication?  Did you know that the bathroom cabinet can be a source of medication misuse?   Store medications in secure locations, such as lockboxes, medication safes, or other lockable spaces. Avoid storage places such as drawers, nightstands, or kitchen cabinets that children and others can easily access
Medication Disposal:
We encourage all community members to go through their homes to locate medications you no longer use including prescription medications, over the counter medications, medications for pets, and vitamins.
Community members are able to safely dispose of the medications by participating in the upcoming DEA Drug Take-Back Day on October 24th from 10 am until 2 pm.  If you miss the DEA Take-Back Day, area drop boxes are open during business hours the rest of the year.
For more drop box locations, please go to www.ohiorxdisposal.com or on the Get Help Now free phone application.
Another way to dispose of medication in a safe way is to use a medication disposal pouch.  We encourage community members not to flush their medication or to throw them in the trash.  If you are not able to dispose of your medication at an area dropbox, using a medication disposal pouch is another great answer.  Medication disposal pouches can be found at area pharmacies, police stations, or can be requested by the Prevention Team at Goodwill Easter Seals Miami Valley.  The pouches deactivate the medication when all the instructions are followed and can safely be thrown in the trash after completing the steps.
Please call Gail Dafler at the Goodwill Easter Seals Miami Valley office at 937-461-4800 to request a medication disposal pouch.
These simple steps will help to make Montgomery County and our communities safer around medication.