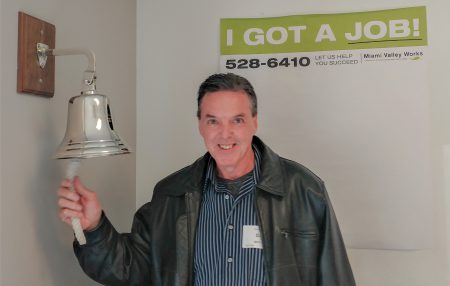 David's struggle with addiction led him down a path of destruction, illegal behavior and in 2005 it landed him a 12-year stint in prison.  During his incarceration, David held many roles, but his time serving as a Reentry Clerk Facilitator, development and facilitation of coursework focused on reentry and reducing recidivism, helped David to realize that his passion was assisting others working through destructive behavior, specifically addiction.
In 2018, David was referred to Miami Valley Works through his Probation Officer.  Miami Valley Works is a service of Goodwill Easterseals Miami Valley that assists people living in poverty to achieve economic self-sufficiency through employment.   He wanted to grow his skill set and find opportunities to work with individuals in need. With the assistance of his employment coach, David secured a position as a Shelter Monitor/Client Advocate at St. Vincent de Paul Gateway Shelter for Men. At St. Vincent de Paul, David engaged directly with the population he wanted to serve, but his role did not allow for addiction services or direct counseling.  However, David understood that this role was an important step for his overall goal of working in addiction services. David continued to work on his goal of serving individuals struggling with addiction by pursuing an Associate of Applied Science in Urban Sociology degree and also a Peer Recovery Support Specialist Certification.  David utilized the Peer Recovery Support program at Goodwill Easterseals Miami Valley to help complete all coursework, training, and paperwork required for his certification.  He will graduate with his associate degree in May 2020. After one year of stable employment, David became ready to take the next step in his career journey.  David accepted a position at Woodhaven: Residential Treatment Center as a Residential Advisor in October of 2019. David has also started making plans to acquire his Chemical Dependency Counselor Assistant certificate.
While David has faced his share of personal and professional barriers, he continues to persevere and make strides towards his goal of becoming a counselor.  David looks forward to the work he will get to do in his community and using his experiences and skills to help others in need.  Miami Valley Works Member, David, is making use of his personal experiences to build a career focused on service.