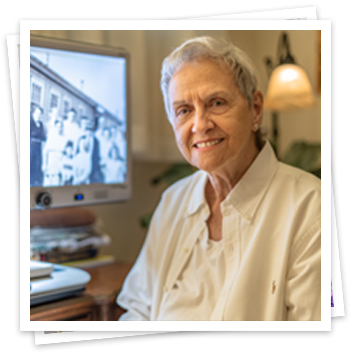 Learn how Kip lost her eyesight but was able to overcome her barriers by getting assistance from Goodwill Easterseals Miami Valley.  Below is the story told in her own words.
Well, it started off with me just thinking I wasn't getting enough rest, but when I went to get my eyes checked by my ophthalmologist, he said, that I had macular degeneration.  I never dreamed in a million years that I would go from seeing clearly to seeing the world in one big blur like my eyes are wrapped in gauze. If it hadn't been for my friend, Elaine, and Goodwill; I would not be sitting here today. I couldn't believe the services Goodwill Easterseals Miami Valley offered. I was only aware that Goodwill was a place to take used clothing or books that you didn't want, and other people could go in and buy them. I didn't know that their services extended to giving people back their lives.
In my case, I can read again. I can handle my own checking account and take care of my own mail. I have a book that reads things for me and a spatula that works; so that I can turnover things without spilling it out of the skillet.  There are so many things that I have that Goodwill put in my home.  If they know it will help me; I have it.  I have a thing called Merlin and true to its name it is like magic.  I can put photographs of family onto the Merlin and be able to see pictures that I have not been able to for such a long time. May sound simple, but I tell you, it's a gift from god.
All you need to do is contact Goodwill Easterseals they will change your life. They changed mine!
Most people do not realize that Goodwill Easterseals Miami Valley has vision services.  This program works with individuals who are seeking employment or people who are working and losing their eyesight.  The vision program also works with individuals who are older and want to stay as independent as possible.  Part of this program is called Activities Daily Living Training. Goodwill Easterseals Miami Valley Staff goes into the home and access how the individual is living.  They then evaluate the need and how we can help the individual stay at home.
If you or someone you know have low vision or blindness, you can get help from Goodwill Easterseals Miami Valley's Vision Services.  You can reach them at 937-528-6340 in Dayton or 419-228-4821 in Lima.