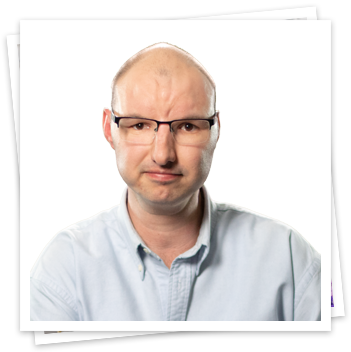 When Matt was born the doctors told his family that he would never walk, would never be able to talk and would not be able to function cognitively; but that did not stop his family from deciding that they would give him every chance to grow up and be whatever he wanted to be.
Matt has since gone on to graduate from high school and work as a janitorial assistant; this is when Goodwill Easterseals Miami Valley (GESMV) began their journey with Matt in our Job Development Program.  GESMV helped Matt find the position. He worked with a job developer who helped him build a resume and practice interview skills and took him on interviews.
Job development is for an individual with developmental disabilities.  It allows a person to sample jobs because they are not sure what they want to do.  But Matt was unique in that he knew what he wanted to do. He came in and said I want to work at Kroger.  So, his job developer, John, sat down with him and helped tailor his resume to Kroger and went out for an interview
Peggy, Matt's mom, said "we got Matt involved when he was in high school and then re-engaged because Matt really wanted to work at Kroger's.  He wanted to do that for a very long time.  It has just been such a wonderful experience. GESMV gives him great support on his job and anytime we have questions the job coach has always been there.  Always professional and helpful."
With the help of his job developer, they were able to do something that Kroger's normally doesn't allow people to do on interviews. They let him practice bagging as part of his interview because he still was a little shy talking with people. They loved him, he aced it, and Kroger offered him the job right there.
Matt is a courtesy clerk at Kroger.  In that job, he helps with bagging groceries, gathering carts, helping customers out to their cars if needed, and returning items to the shelves that customers decide they don't want.  Matt will tell you "I like to help our customers; I always ask customers how their day is going and then thank them for coming in. I am always happy to help out the customers. It is my job."
Peggy says that "John, GESMV Job Coach, has given Matt a lot of emotional support. To help him acclimate to the job and be comfortable and be confident in what he does."
Matt is hoping to advance to a Janitorial position at Kroger's.  John said, "if I would guess why Matt wants the janitorial job it's because it gives him a chance to interact with customers more, it's that next level of independence for him."
Matt embodies the mission of GESMV.  To help people grow in their independence.  Matt started out very shy and very timid talking to people; and now 3 years later, he is saying hello and goodbye to customers and engaging them in conversation.
Peggy is very appreciative of the work GESMV and the Job Coach has given to Matt. "Because of Matt being involved with GESMV, his quality of life has improved so much. He is much more independent and much more confident in his abilities.  He is much happier because he has a purpose. Everyone I have come across has been so professional and so nice and we appreciate that from the heart."