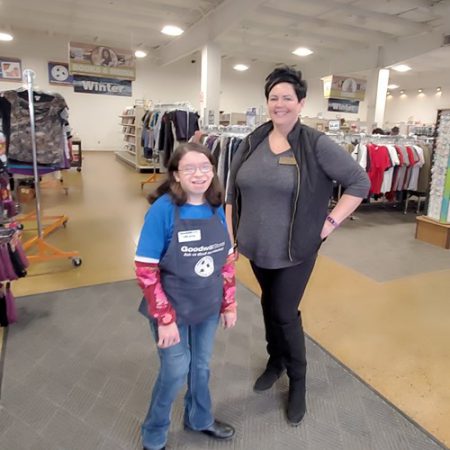 Mikahla is originally from Urbana but moved to Van Wert with her dad shortly after her mom passed away from cancer.  Mikahla's dad is from Van Wert and wanted to be closer to family as he was also diagnosed with cancer.  Shortly after his diagnosis, he passed away, so Mikahla lived with her brother and sister.  At this time, she knew it was time to begin looking for a job. "It was difficult to find a job, but I eventually found a training program provided by Goodwill Easterseals Miami Valley.  I participated in the training and then was hired on at the Van Wert Goodwill Store."
Mikahla says my favorite thing is cashiering so I can see and communicate with other people.  I am inspired every day by just being able to work and be independent.  I can meet new people and be a part of the community.
"If I never started with Goodwill, I would still be home. I used to be scared to do anything or go out in the community.  Goodwill has got me more comfortable being on my own and gave me the courage to come out of my shell.  They let me grow as a person.  I was just a little shy girl right out of High School and now I'm an adult and training people." 
Betty, Van Wert Goodwill Store Manager, said she is an inspiration and hard worker.  Mikahla doesn't let any of her insecurities affect her, she is just a great person and I saw something about her, she has what it takes.
I feel like everyone needs an opportunity.  Nothing holds her back and is such a happy go lucky person!  I hope someday she takes my job!
Mikahla said her aspiration is to keep on growing and learning new things.  I was able to get my driver's license, a car, and I also have it adapted to me so I can drive anywhere I need.  I like traveling and would like to travel more because now, I have my independence.