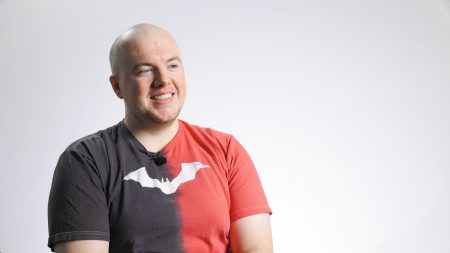 Meet Mitchell
Mitchell wanted to follow in his dad's footsteps and become a policeman, but instead, Mitchell found himself working in the auto mechanic industry, a job, he said led him to a mental breakdown and depression. That's when he turned to Miami Valley Works, a service of Goodwill Easterseals Miami Valley.
Miami Valley Works is a program to help willing and capable people, living in poverty, achieve economic self-sufficiency through employment. They work with individuals to make a better life for them and their family.
Julia Hornton, Employment Coach for Miami Valley Works stated, "Mitchell was broken. He was mentally drained, and he suffered from depression. He came to us for help and wanted assistance to find out what he would be best at; come to find out, he wanted to help people because it helps him with his healing and recovery."
Mitchell went through Miami Valley Works week-long workshop, which covers everything from resume-building to interviewing. When Mitchell mentioned he wanted a job where he could care for people, Julia told him there are Goodwill Easterseals positions available. Mitchell decided he really wanted to participate in the Adult Day Programs as a floater.
Goodwill Easterseals Miami Valley provides both Seniors and Persons with Disabilities a "home base" in the community emphasizing small group activities in the community and vocational skill building. This program implements the needs and interests of each participant by focusing on their individual goals.
Mitchell is now a full-time employee with Goodwill Easterseals. He floats between the Senior Adult Day Services and the Adult Day Support programs for individuals with disabilities. Mitchell states, "I enjoy my work as it gives me a lot more joy. I take pride in my work, and it keeps me motivated to keep working. Miami Valley Works helped me find myself."