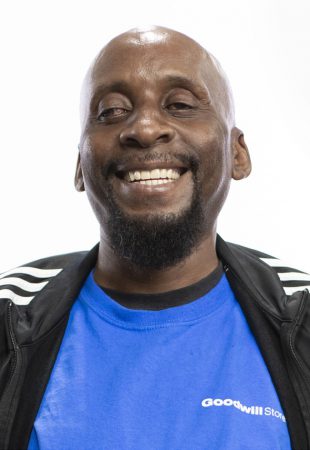 Rodney has struggled with vision impairment for most of his life. In high
school, his vision began to fade. Once his vision began to fade, he found it
difficult to be able to do the necessary assignments needed for school.
He started to sit closer and closer to the chalkboard so that he could see
what the teacher was writing. He finally went to the doctor, where after running some tests,
the doctor gave him the diagnosis of glaucoma and told him he would lose his vision.
Distraught and thinking that his life was over, he started to use drugs.
Rodney ended up in the streets; this was his life because he just could not cope with knowing he was going blind. While Rodney was living on the streets,
he started to have a very uneasy feeling. He began to feel unsafe and feared for his life.
Rodney said, "being on the streets and being blind is not safe and it can be a real
scary situation." So, Rodney made an important decision and decided
to go into a rehab facility. He has been clean for 25 years "I made the
decision to quit and haven't touched it since, said Rodney.
Rodney went on to say, "It was still very difficult to just live because without my eye
sight, I thought my life was going to be just sitting in a chair doing nothing.
I was ready to just give up again. And then one day as I was sitting on
the couch, I heard a commercial on TV about Goodwill Easterseals Miami
Valley and thought maybe they could help me. I called them but still felt
like they were not going to do anything to help. But I got a call and was
asked to come in for an assessment."
That is when Rodney met Pamela; a job developer working with individuals
with visual impairments at Goodwill Easterseals Miami Valley. Rodney
said "Pam gave me hope and would tell me not to give up and she was
going to get me job. That is what I wanted to do. I just wanted a life and
not just sitting in a chair. She gave me the courage. I kept saying, 'I can't'
but she said there is no such word. Goodwill showed me that I can do it
and I am now working at the Centerville Goodwill store since December
of 2020."
Every day Rodney looks forward to getting up and going to work. He says
"I get to do the things I thought I couldn't do, and I am doing it; I love it."
Rodney would like to encourage everyone to not give up.