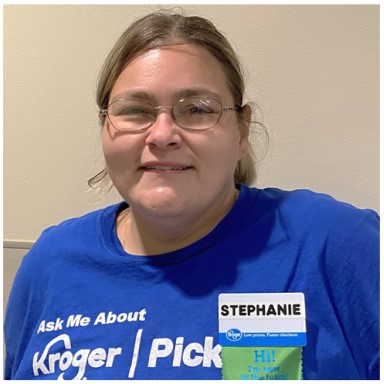 Meet Stephanie and how the power of work has empowered her independence. "I just didn't feel like I was contributing to life," is how Stephanie used to describe her life. Stephanie struggled with anxiety and depression after the unexpected loss of her mother and she could easily become overwhelmed and withdraw from life.
In need of employment, Stephanie was referred to Goodwill Easterseals Miami Valley Placement Services by Opportunities for Ohioans with Disabilities, and met Pam McCuistion, a job placement specialist. Although she was at first a little doubtful, Stephanie soon experienced success. McCuistion explains, "Stephanie was participating in a phone screening for a part-time job at the Kroger Marketplace in Moraine. She impressed the management so much; she actually received a conditional job offer during that call."
Once hired, Stephanie worked with a job coach who helped her through the training and onboarding process as an eCommerce Clerk, filling online orders. She also helped Stephanie with all aspects of employment, like arriving on time, assisting others, and completing assigned tasks thoroughly and efficiently. It wasn't long before Stephanie's work improved, and she was working full time. With so many shoppers using online ordering, Stephanie is currently handling an average of 125 pick-up orders per day!
"I love everything about my job. I love meeting people, talking to people, and helping people. The work I'm doing now is especially important because I am shopping for people who can't get out because of the pandemic. I'm happy that I can help others and make a difference in their lives."
Goodwill Easterseals Miami Valley helps people like Stephanie every day. When you shop or donate at a Goodwill Store, the funds help support the many programs that are transforming lives and making a difference in your community.  Thank You!