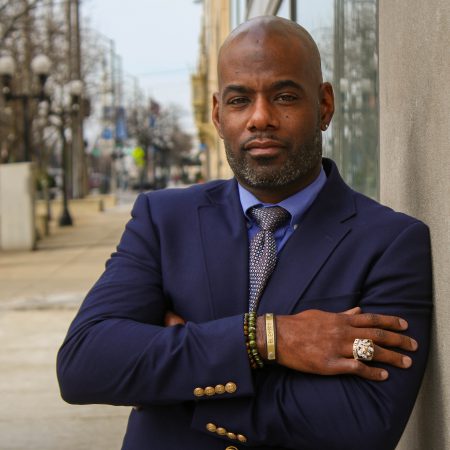 Goodwill Easterseals Miami Valley is very pleased to introduce Mr. LaVar Glover as the New Director of Operations for the West Campus Community Services Center.
Mr. Glover will begin with Goodwill Easterseals November 30th and will be responsible for the day to day operations of the West Campus, establishing and building upon existing partnerships with entities in West Dayton and Trotwood, launching new and innovative programming for youth and young adults, and establishing programs aimed to improve social determinants of health in nearby communities.
Lance Detrick, President and CEO of Goodwill Easterseals Miami Valley, states, "We are excited to welcome LaVar and believe his experience and passion will be a huge asset in his leadership of the West Campus Community Services Center."
Currently, LaVar Glover is the Manager for Economic Inclusion at the Dayton Area Chamber of Commerce. He specifically provides equitable opportunity to minorities, women and veteran-owned businesses in the Dayton region.
LaVar's background is certainly unique! He was selected in the 2002 NFL Draft by the Pittsburgh Steelers, and eventually made his way to the Cincinnati Bengals. After his time with the NFL, LaVar spent six seasons playing in the Canadian Football League (CFL), where he was a Grey Cup Champion (2006) and recipient of the Heart of a Legend award for leadership and service.
After retiring from professional football, LaVar pursued a lifelong passion of working with youth by creating the Glover Youth Program, which provided residential care, life-skills development and mentoring for foster kids and vulnerable populations.
LaVar keeps his focus on giving back to his community. Before assuming his role at the Dayton Chamber, he served as the Director of Self-Sufficiency for the Miami Valley Community Action Partnership (MVCAP). During his time with MVCAP, LaVar was instrumental in developing synergy and awareness around the 'Getting Ahead' and 'Bridges Out of Poverty' initiatives in the Dayton region. LaVar is also an active board member for the Miami Valley Nonprofit Collaborative and is co-founder of the Football 101 for Women.
Goodwill Easterseals Miami Valley, along with Goodwill Stores, support more than 40 programs and services that assist people with disabilities and other disadvantages to achieve independence. For every revenue dollar retail outlets receive, 87 cents goes to Goodwill Easterseals Miami Valley programs.