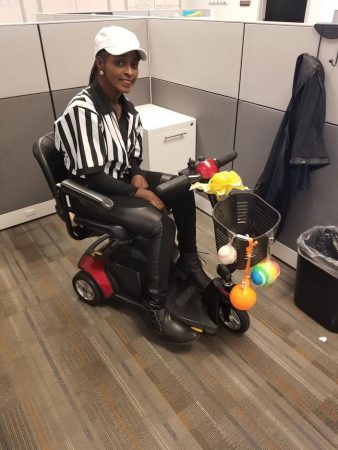 This year for Halloween, I decided to be, drum roll please…….  A referee! Just call me "The Rolling Referee"!
I bet you're wondering what made me choose this costume?  For one, I think the world of sports could use more women referees (perhaps a few on scooters wouldn't be a bad idea either).  Two, I knew it would be easy to find what was needed to pull this look together.  Three, I thought this costume idea would be cute, yet easy for me to maintain.  I can still have the ability to operate my scooter and go about my daily activities.
Choosing a Halloween costume for me is just like choosing a hairstyle. I want it to be cute yet manageable.
Let me first start by thanking everyone for all the awesome costumes ideas you posted on my previous blog, Help Me Halloween or suggesting to me personally. There were some good ones that really incorporated my scooter. Some of my favorite ideas are the Queen of Hearts (a big red queen of hearts card taped on the back of my scooter), princess (scooter serving as unicorn), mermaid (scooter serving as sea shell), biker chick (scooter made to look as a motorcycle), a beautiful witch carrying a broom stick and a wind-up-doll (scooter have a big wind on the back).
To pull the rolling referee look together, I needed a black and white striped shirt. Guess where I found it? At a local Goodwill Store. Luckily, I have an assortment of black pants so those weren't a problem. When researching my costume I learned, the head referee wears a white hat. Of course I wanted to be the top dog, so I borrowed my favorite guy's white baseball hat. Every good referee needs a whistle to blow when things get out of hand and a yellow handkerchief to throw when someone commits a foul.
Since most referees officiate sports that include balls, this was a way to incorporate my scooter. I went to a local store and purchased balls that represented a few of my favorite sports. In return, my favorite guy whipped out his ole handy duck-tape and taped them all around my scooter. Pretty clever huh?!
Dressing up as the rolling referee was big fun! Halloween is a great time to be creative and have fun. My costume was very cute yet easy to manage. Plus, I was able to incorporate my scooter. I will have to think hard for next year to dream up what I should be, because I'm in love with this one.
Until next year, have fun tricking or treating! Happy Halloween.