Almost 20 years ago, Vic Ketring died.
Last week, his family and colleagues celebrated the much-loved GESMV employee's retirement from the organization he says brought him back to life.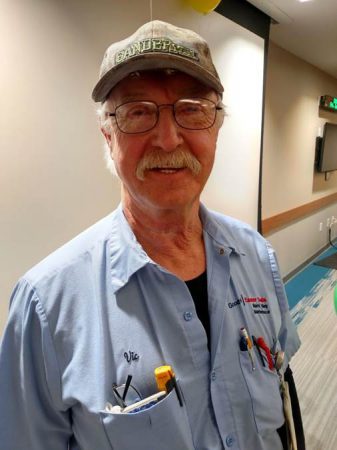 Ketring, lead maintenance worker with the Maintenance department, came to the agency in 1997 as a participant in the vocational rehabilitation program. A near-fatal wreck that sent his truck over the overpass at Route 4 and Interstate 70 left him in a coma for two days; what followed was grueling rehabilitation.
"I couldn't even write my own name," Ketring said.
While receiving services through Vocational Rehabilitation, Ketring said former GESMV president Amy Luttrell would check in on his progress. And Lance Detrick, current president and CEO who was formerly vice president of business development and administration, helped him figure out how to care for a butterfly that had emerged from Vic's Christmas tree.
"I was shocked – where else does the president and the vice president take time to care about someone like me?" Ketring said.
Fellow employees say Ketring is the kind of guy who would give you the shirt off of his back.
"He has the kindest heart," said Kim Adams, an accounting assistant in Finance who has known Ketring for 19 years. Adams organized the surprise party for her friend.
"He's family," she said.
Ketring's supervisor, Roy Hunt, said Vic is the hardest worker he's ever saw.
"I hired him off the (business services) contract floor, and it was the best thing I ever did," Hunt said.
Life after GESMV includes relocating to a home on 52 acres of land he owns with his wife, Gayle, in Clarkrange, Tenn. Ketring said he plans to do quite a bit of fishing on nearby Dale Hollow Lake, in the boat he purchased from the Goodwill Auto Auction many years ago. The couple will keep their home here, to visit grandchildren.
The retirement party came as quite a surprise; Ketring gave some good-natured ribbing to his Maintenance co-workers, who managed to keep the party a surprise, but he teared up when reflecting on his years here.
"There were some real angels who took me by the arm when I first started here," he said. "This place has touched me ever since."